Joined

Oct 18, 2007
Location
for people who played oot both on n64 and gc may have noticed that the design on mirror shield has changed. personally i don 't know why nintendo changed the symbol, because i liked the old symbol. (apperently not only the logo is changed but more things in the game where also changed)
now i read about this issue, something about a protest. as most of u know the crescent moon and the star resembles the logo of the islam (there are more things in the game thats also from other cultures) and they (don't know who "they "are) protested against it. i'm also a muslim, i think its nonsense.
about the new logo (gc version) after i saw it looked really familiar but i could not figure out why. its as if i seen that logo before somewhere. if somebody knows that please tell me.
Old design
New design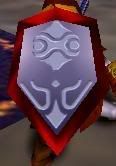 So which Design is better?
Last edited: