Joined

Aug 15, 2011
Location
Gender

wouldn't you like to know, weather boy
before we get into this I'd really appreciate no jokes like "my gender is (insert inanimate object)" and stuff like that because I've seen a lot of that kind of thing on here, and as someone who identifies as non-binary it sucks to be mocked like that. That's all I ask
In both the United States and Canada, many senators are planning to create laws that force people to use the washroom for the sex they were assigned at birth. Many people are claiming that these laws are very transphobic, and I agree. Here in Canada, we have a transgender rights bill, however on February 26th, Senator Donald Plett made it a point to exclude "sex specific" areas, aka places like public restrooms, from which the legislation would be exempt. He did so claiming that it was for "safety" and to prevent "pedophilia" in women's washrooms, implying that transgender women are not actually women, and forcing transgendered individuals into a washroom that does not suit their gender identity.
story here
.
Trans people can often experience serious gender dysphoria when forced to adhere to gender roles and restrictions that do not fit their identity, and many activists both in the US and Canada are calling this amendment extremely transphobic. Many trans people have started a protest against the movement, taking pictures of themselves in the bathrooms they are forced into and asking if this is where they really belong, sometimes using the hashtags "#PlettPutMeHere" and "#WeJustNeedToPee".
Examples under the cut: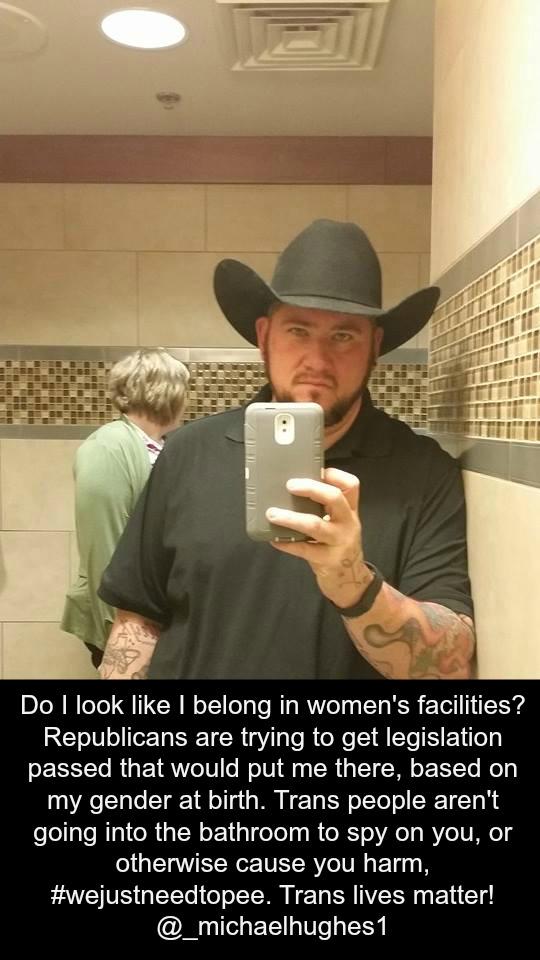 Plett's amendment gives off the impression that trans people, especially trans women, are not to be trusted and are an actual safety hazard, something I find ridiculous. This accentuates the belief that trans women are simply "men in dresses", which is not true. If you say you are a woman, you are a woman. You do not need to dress or look like a woman to be a woman. Many trans people of course do prefer to transition, but there are some who cannot or don't want to. Transition can be a very long, complex, and expensive process, and not everyone is able to do it.
The irony of this amendment is that transgender people are often the ones who are in danger in the public washrooms. A large majority of trans people find themselves discriminated against and physically and verbally harassed in public washrooms because of how they identify.
Also, fact: It is legal in all states except California to use "trans/gay panic" as a defense, meaning that people can use this excuse of discovering a trans person's gender to defend assault, or even murder.
With the
multiple
transgender
teen
suicides
already happening this year, and the large amount of transgendered people that have been murdered because of their identity, I think it's time to step up our rights and start supporting and protecting trans people, don't you?
Now, my questions for you.
1) Do you think that a transgendered person should be able to use their washroom of choice, regardless of sex assigned at birth?
2) What about the concept of gender-neutral washrooms? I, as someone who identifies as non-binary, would love it if more gender neutral washrooms were created in public places, and I know many people don't feel comfortable using either the male or female rooms.
3) What is your opinion on the negative stereotypes that surround trans people, and especially trans women?
4) What do you think of public transgender rights in general? Do we need to work more towards rights?
thx 4 reading
Last edited: