I wanted to provide an example of how one might handle a fan fiction, in this case, off-site, since this particular one has many chapters and is already a completed work. This is also for people to read, should they want to.
This is a PG-13 rated story. (Possibly R rated in some parts, your milage may vary). It is Western, Sci-Fi and Fantasy.
I wrote it based upon the ideas of both myself and a friend, Sailor Lilith_chan. It is a story that takes place in a "future Hyrule" - that is, in a time beyond all of the canon game eras. It is an original-era story with a new Link, a new Zelda and a Hyrule that's become semi-modernized and is being covered by desert. Link becomes a gunslinger as well as a sword-slinger, though swords and swordplay remain vital to the story.
Also important to consider is that this story takes place along its own Timeline - that is, the history of the Hyrule of this story runs upon a linear Timeline (that is explained a little as the plot goes on). It ignores the Timeline (split) theory that is the most widely accepted as being canon by the Zelda fan community. I did this quite on purpose - mainly because I wished to reference both Wind Waker and Twilight Princess events.
(Most fan fiction posted here will probably not have to come with such lenghty notes and warnings, "The Great Desert" does only because it is a very un-conventional Zelda fic).
Anyway...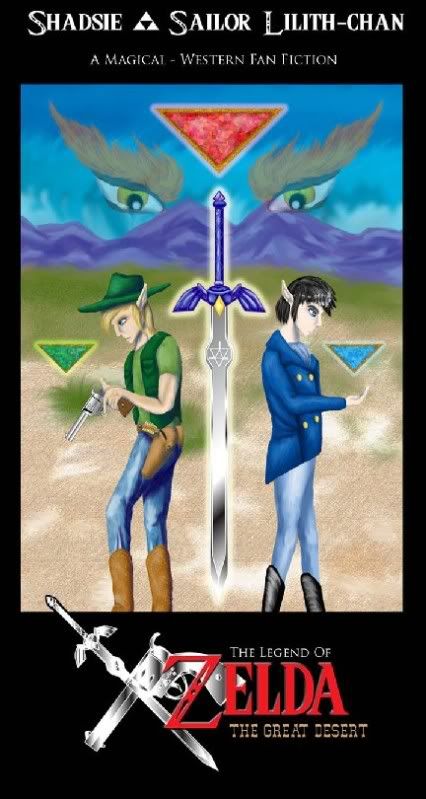 Chapter 1:
http://www.fanfiction.net/s/4665742/1/The_Great_Desert
Chapter 2:
http://www.fanfiction.net/s/4665742/2/The_Great_Desert
Chapter 3:
http://www.fanfiction.net/s/4665742/3/The_Great_Desert
Chapter 4:
http://www.fanfiction.net/s/4665742/4/The_Great_Desert
Chapter 5:
http://www.fanfiction.net/s/4665742/5/The_Great_Desert
Chapter 6:
http://www.fanfiction.net/s/4665742/6/The_Great_Desert
Chapter 7:
http://www.fanfiction.net/s/4665742/7/The_Great_Desert
Chapter 8:
http://www.fanfiction.net/s/4665742/8/The_Great_Desert
Chapter 9:
http://www.fanfiction.net/s/4665742/9/The_Great_Desert
Chapter 10:
http://www.fanfiction.net/s/4665742/10/The_Great_Desert
Chapter 11:
http://www.fanfiction.net/s/4665742/11/The_Great_Desert
Chapter 12:
http://www.fanfiction.net/s/4665742/12/The_Great_Desert
Chapter 13:
http://www.fanfiction.net/s/4665742/13/The_Great_Desert
Chapter 14:
http://www.fanfiction.net/s/4665742/14/The_Great_Desert
Chapter 15:
http://www.fanfiction.net/s/4665742/15/The_Great_Desert
Chapter 16:
http://www.fanfiction.net/s/4665742/16/The_Great_Desert