Seek a door that carries a [9]
Joined

Mar 22, 2012
Location
You are cast into a strange world, out of a strange black pipe. How did this happen? How'd you get here? No one knows. All you know is the people greeting you have already declared your purpose, telling you that the land is called Ecnal.
Over time, you learn more about the world and where you come from. As it turns out, a man they call "The Dreamer" created the world around you. But, for some reason, everyone hates The Dreamer. You later find the reason behind the hate. One dark day they call the "beginning of the dark days", an evil power rose up and cast sickness over the land and slaughtered many people. The Dreamer tried to fight power, and tried to win, for a cost. It turned out to be a truce, since neither side truly won. But as the battle was still raging, the evil power created a large scar on the left side of the dreamer's face. After a few more long and hard years of fighting, The Dreamer lost and was killed. The evil force, grated the people one thing... A chance to return their loved ones to the land of the living. For yet another cost, the dark one knew that the Dreamer would one day return to the world, reborn, and defeat him. So, the dark one made a contract with those with loved ones that were lost. The darkness told them that "if the Dreamer returns, he shall have to be made sacrifice to me before the loved one can return to the land of the living. Once the sacrifice is finished, the loved shall return to the world."
Over a large span of a thousand year, demons that resembled the Dreamer were cast upon the world, to remind the people that all of this was the Dreamer's fault. But all of the demons always muttered the words "Anai Tsirk", which is what the people nicknamed the dark one. These attacks made the people hate the Dreamer ever more, when more and more people were losing their loved ones and becoming the branded. The contract was formed with the dark one through a necklace that was the symbol of the loved one they lost. This binds the soul of the dead and the living. The living, however, will have their lifespan cut in half due to the binding. Because of the attacks of the people, eventually a mini "dark days" began again. Of course, after a long, 7 year battle, the people eventually pushed the demons out and life was peaceful again. Ever since then, anyone caught being a branded necklace holder was killed on spot. And no one even muttered the name "The Dreamer". Not even the Sleep Point people. What is even sadder is that anyone that gets any kind of assortment of scar is also murdered. This is all to prevent the rebirth of The Dreamer (also the peoples way of making the Anai Tsirk not come back into power).
All branded necklace holders tend to blend in with their chosen purpose and keep their necklaces, telling and trusting no one.
Everyone has a place that they are assigned to for their purpose: (their Purpose is just what their job is on Ecnal. It's their job they get stuck with for the rest of their lives, unless they get promoted to Greed or Drop Point. Makes sense? Read on.)
Food:
A work place where all of the world's food is made. Without these people, everyone would die. This is a great position of power. They are the first point of power, they also hold the world's water supply.
Weapon:
These are the people that fight the Dreamer Demons. Without them, the world would not be protected. Another great place of power. They are the 3rd point of power.
Pleasure:
A place where are your fantasies come to life. This is another great place of power. They are the 4ht point of power.
Rage:
These are the lowest people of power. They take all the jobs people would never want to take.
Pride:
Pride is also one of the greater points of power, but Pride comith before the fall, so this is a point where it is a giant risk. They are the 6th point of power.
Sleep:
One of the lower point of power. But they are the masters of sleep, without them, no one would function. They are the 5th point of power.
Health:
These are the doctors of Ecnal. They are also the masters of medicine. Without them, the disease would not have been cured and everyone would have died. They are the 2nd Point of Power.
Greed:
These are the people who have mastered their purpose and now stay in the Greed Point. The majority of them are rich, and look down on the other classes. One cannot join the Greed Point until they have mastered their first purpose. (I would rather people not be in this point of power at the start of the RP, rather, if they'd like. They can join the point later)
Drop Point:
These are the people who are older, and have even surpassed their place in the Greed Point by overcoming Greed. They tell the new people their purpose in life, including those born and not just dropped off in the world. No one can be this class. (Not even me. lol. Just explaining their purpose)
All the people are "considered" equal, but this is the order in which the people rank each of the points. Most of these are based off of the 7 deadly sins and everyday needs for people. Is what their purpose is.
You. Know your purpose is far beyond those of just the world of Ecnal. So you decide to stay in the Drop Point to await your destiny.
Are you ready?
Rules:
--There is a highly specific plot, . You can go off and do your own thing, in fact I encourage side-questing at checkpoints. It makes things a lot more interesting. But please come when you're called back.
--Romance and a bit of sexuality or suggestiveness is fine, just don't go overboard. This is ZD! I don't want to get in to trouble
--PLEASE, no godly, overpowered, magical, amazing, perfect, get-away-with-everything, packed-to-the-pretty-skin-with-amazing, bleeping crapload Gary Stus or Mary Sues!!! They enemies will be pretty tough, so no "one shot. Boom their dead." No. I want this RP to last a while, so none of that PLEASE.
--Keep swearing to a minimum. It will probably be censored by ZD, but I am aware that their are younger ZD members.
--Lastly, have fun. This, like all RPs, is meant to be fun. Keep your courtesy, be kind, and enjoy yourself!
(Yes, I stole these rules from a good friend of mine, Hylian_Monolith, because she makes good rules)
(You can start your character about by being born or dropped into the world. Depending if you want to be new, or have your character be a branded necklace holder)
Sign-ups: (I will allow a maximum of two characters)
Name:
Age:
Appearance/Clothing:
Weaponry: (I will probably allow you to choose weapons but they will not receive them until later. Max of 2 weapons)
Background:
Purpose: (choose one of the above)
Skills: (they should be somewhat related to your purpose, but don't have to be.)
Branded: (yes or no. If yes, tell who your character lost and what the necklace looks like.)
Weakness:
My characters:
Name:
Shannon Wolfe (yes, some of you know him. But he will be the complete opposite of his personally you all know him well for in this RP.)
Age:
27
Appearance/Clothing:
Sorry, my scanner completely BUTCHERED the quality of this image. sigh.... But you should get the basic gist of it. His trench coat is tan/light brown, his tie is green and his shirt is white, along with his pants. His boots are brown. His hair is blonde and his eyes are green.
Weaponry:
His uses a fancy very hi-tech lance. (See above photo). His lance is a light blue that glows with a special aura that allows him to call his spear back to him (kind of like Thor's hammer). Shannon crafted this spear with his own two hands, the lance's name is Seira and on his lance is the word "wolf" in Japanese. He also has a small hand gun that he keeps in his trench coat.
Background:
Orphaned at a young age, Shannon has no memory of his parents. So, he had to grow up on his own. Shannon, at age of 21, in the middle of the 2nd dark days, made a cure for the death disease. This Shannon granted him millions, later billions of dollars. Of course, he became very jerkish and bitter, because of a plot that will be explained in RP, and became the "horror stories" of his sector. Once he turned 23, he realized that being a jerk billionaire was not what he wanted in his life. He then became a very sweet and caring young gentleman, although people still treated him badly. (Not all of his backstory is explained in this, but I am going to maybe tell it in the RP)
Purpose:
Point Health
Skills:
He is very skilled with technology and he is a genius (like, Tony Stark, Reed Richards smart). He is also very skilled with a spear/lance. He is very good at coming up with decent strategies to deal with different situations. He is also fairly good at remembering things. He is a skilled scientist and doctor.
Branded:
Explained in RP.
Weakness:
Despite all his brains, he has slight ADD, where he is easily distracted. He is not so great with ranged weapons. He likes to be alone often, and does not like working in a team. He is also very bitter about his past and dislikes talking about it.
Name:
Lance
Age:
looks about 21
Appearance/Clothing:
Thick, black hair. Dark blue eyes. Black jacket and shirt. Blue jeans. (start of RP.) Always covered in a black cloak with hood (to be explained in RP.)
Weaponry:
A sword with boomerang abilities. (later on weapon)
Background:
He came from the pipe. He has no memories of Ecnal but seems to have random moments of remembrance. Seems to make references to things no one would understand.
Purpose:
Never received one.
Skills:
Willing to learn, very determined. Good at ending arguments. Good at making compromises. He is a very happy person, despite how the world is and the fact he doesn't know anything.
Branded:
In RP.
Weakness:
He is timid and does not know how to fight. He has to keep himself hidden at all times to make sure there is no unwanted attention to him.
Sorry for all the reading guys!
I forgot the basic map of Ecnel.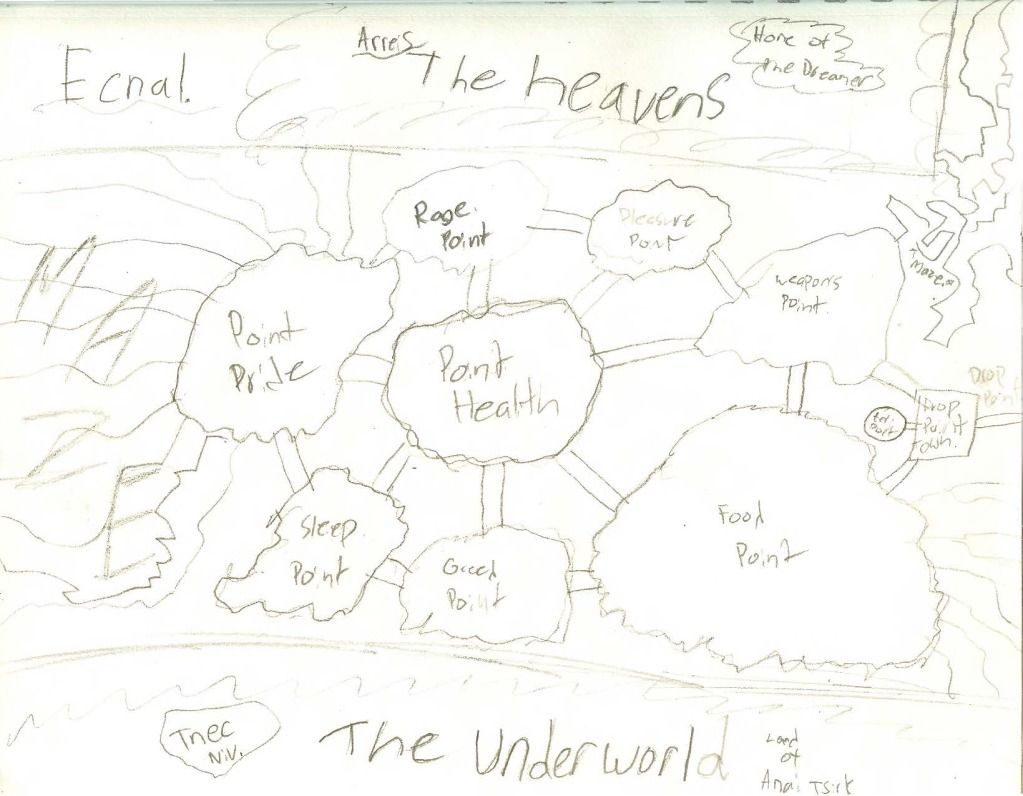 Here it is. Anyways, once again, sorry for the long read guys. The plot is pretty complex, I just wanted to make sure it makes sense c:
Last edited: