Joined

Sep 13, 2009
Location
Fierce Deity, one of the most ominous and mysterious characters in The Legend of Zelda: Majora's Mask. He is an eight foot tall, possible god, character that Link can transform into using Fierce Deity's Mask.
For those of you that don't know, The Legend of Zelda: Majora's Mask is a direct sequel from it's previous game, The Legend of Zelda: Ocarina of Time. In Majora's Mask, Link gets mutated into a Deku Scrub, a small wooden creature. Eventually, Link gets the curse lifted from him. So the Deku Scrub gets trapped trapped inside a mask. Allowing Link to change between his hylian (basically the same concept as human) form and deku scrub form. Throughout the game, Link obtains two more masks transforming him into a Goron, (a rock creature) and a Zora (a fish creature). He also obtains twenty non-transformation masks, most of which are optional to obtain. In the end of the game, Link goes to the moon and meets different children there. If he has all twenty non-transformation masks, he can obtain the Fierce Deity's Mask.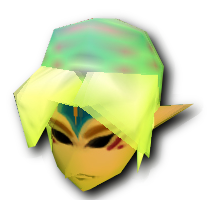 Fierce Deity, or Oni Link, means exactly what the name is: menacing god.
"Could this mask's dark powers be as bad as Majora?"
Says the in-game description on Fierce Deity. Personally, I believe, and most people believe, that Fierce Deity is
stronger
than Majora.
"He is the true bad guy"
says one of the children on the moon. They're probably right. As when Link finally fights Majora using Fierce Deity's Mask is so
easy
to defeat Majora.
Kijin no Kamen
is the Japanese name for Fierce Deity, which translates exactly to Devil God's Mask. This definitely determines that Fierce Deity is a demonic, evil god.
Oni Link (a nickname for Fierce Deity) means many things from Japanese. Oni means a large monster, usually red, pink, or blue-gray, with horns, three fingers, three toes, or in certain occasions three eyes. Though I don't know how he got his nickname to be Oni Link, I can support the name. Fierce Deity's clothes is a dark-blue, and his "third eye" could be the blue indentation in between his eyes.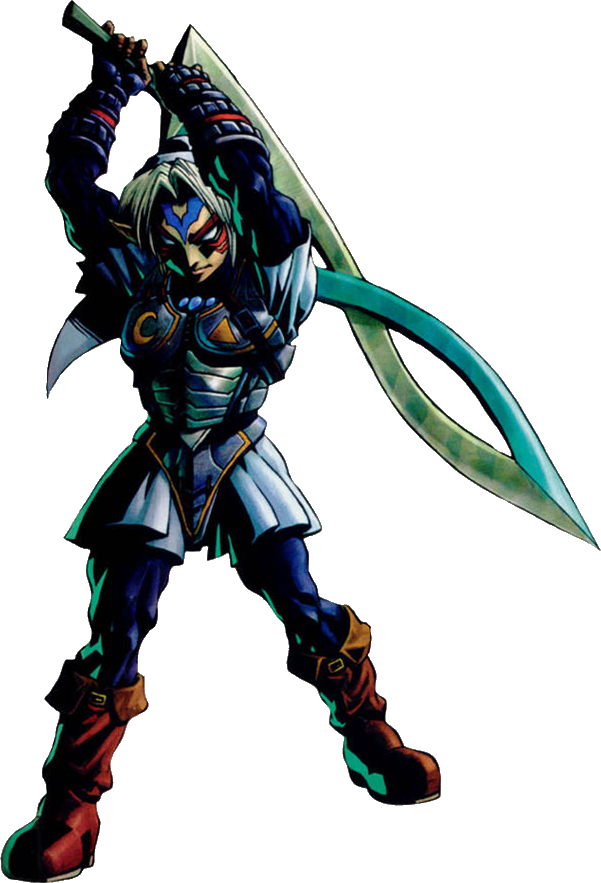 Theories
​
One theory suggests that Majora wanted someone to get the mask, as to make them go mad with power, thus joining Majora's "army". However, Link did not get possessed because he has will-power and has a kind heart. (as he does in every Zelda game.) so Majora did not see this coming and got overwhelmed.
Majora could just be messing with Link, as he never does kill him right away on their encounters. For example, Majora turns Link into a Deku at the beginning, rather than killing him. Or how he makes the moon fall in a short amount of three days, rather than speeding it up or finding a different way to bring doomsday. Or how he basically gave Link Fierce Deity's Mask. This all could be a sense of fair play. But then again, facts can also oppose this. The reason Majora did not turn Link into a deku rather then killing him could be that he did not know he was a threat at the time. So he turned him into a deku scrub for his amusement. The reason he made the moon fall is that he wanted an interesting way to kill everyone, and he couldn't speed it up because he didn't know how. The reason to oppose Fierce Deity's Mask is that he didn't know it existed, or as I said earlier he could've given it to him as a sense of fair play. When you put this theory in perspective however, it seems much more likely for him to be playing games with Link.
Fierce Deity could be Link's Terminan counterpart, as Dark Link is assumably Link's Hylian counterpart. This is highly likely due to the fact that each Hylian has a Terminan counterpart, Like Malon (Hylian) to Romani (Terminan).
In the beginning, when Link comes back to the Happy Mask Salesman after he retrieves his Ocarina of Time, He tells him more about Majora's Mask. He says a "Hexed Tribe" sealed away Majora's Mask and worshiped a deity. I believe this hexed tribe is the Twili or Shiekah. The Deity they worshiped could possibly be Fierce Deity. The reason he got sent in a mask is that he was too strong so the goddesses banished him into the mask.
Majora could possibly altogether just be simply insane. He could possibly have made the moon fall for his own sick pleasure. Or he could make Link go through everything because Majora is mad. Majora could just give Link the mask because as said earlier, he is insane.
Conclusion​
To conclude this, what I believe is that Fierce Deity was worshiped by the Twili or the Sheikah, but got banished into the mask. He is also Link's Terminan Counterpart. He is stronger than Majora and has his own kind of power, his own kind of Triforce of Power. He is not evil nor good, but he works alone, not for Majora or Ganondorf or anyone. Majora is only a distraction and the real enemy, is Fierce Deity.
Last edited: