March onward forever...
Staff member
ZD Legend
Comm. Coordinator
Joined

Jan 17, 2011
Location
I've seen a lot of comments, especially on YouTube, about how bad English dubs of anime are. I'm a little confused by this.
While I think that subs are generally better, they aren't perfect. And not every dub is bad. I agree that a lot of them are bad, but there are plenty of them that are pretty good, like Fullmetal Alchemist's, Baccano!'s, Durarara!!'s, and Fairy Tail's. I really like certain English voice actors too, like Todd Haberkorn, Vic Mignogna, Caitlin Glass, Cherami Leigh, etc. They are very good voice actors.
I actually prefer to watch dubs as opposed to subs. Why? Because I speak English, and it's easier for me to understand. Plus, I don't have to worry about bad translations: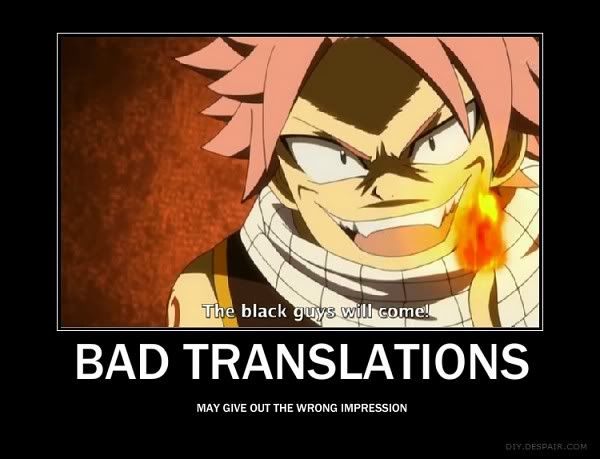 My question is this: Why do so many anime fans hate dubs? Is it just because of poor voice acting? If that's all it is, than honestly that's a pretty pathetic reason. That's really the only reason I can imagine myself, so I'm asking if there are any other reasons people hate dubs. I'm really curious to hear what you guys have to say.
I know this can easily become a heated topic, so please keep things polite and civil. I'd hate for a mod to have to close this thread because of flaming.