Just like you. But cooler
Joined

Jul 30, 2010
Location
It's almost midnight... that must mean it's nearly time for the dolls to come alive.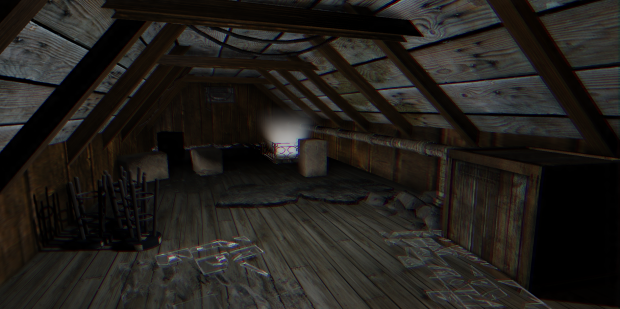 "Welcome to my attic!
It sure is not fancy, I haven't had the time to clean this place for years.. but it shall suffice. In this place I collect all the paranormal items I have encountered during my travels.
Truth to be told, although I have been studying the occult for a long time now, I am not an excorsist... so I will need your help. I know that not every spirit here is malicious, so help me bring peace to those that have come to destroy.
During the night I have camera's placed in the attic, I will be following all paranormal activity.
During the day the dolls seem to be just... dolls. When the sun shines outside I will come to the attic to do my research and analyse the results.
Although I won't physically be around at night, I will communicate with you through the speakers in the center of the room.
I wish you the best of luck!
Still possessed dolls
Cthulhu
A Link in Time
Johnny Sooshi
Linkdude74
Mido
Viral Maze
Storm
Jamie
Dekunut
Exorcised dolls
none
(credits for the main rules go to Viral. I was incredibly lazy and copy-pasted most. I changed some of the rules though, so still take the time to read them!)
- Do not reveal your roles outside of the thread. Mystery and assumptions are the point of this game, so if all the Townies band together through PMs you will ruin this game. Play with integrity. Lying is fine though. Mafia members may lie that they are Townie. Deception is a major aspect of this game.
- You may only post in the Night period.
- Vote and unvote in the format: Vote: Player X; Unvote; Please post these in BOLD
- DO NOT REVEAL ANY INFORMATION AFTER YOU HAVE DIED. If you are a Mafia member and you die, do not reveal to anyone who else is Mafia because that information may end up in the hands of the Townies.
- DO NOT EDIT YOUR POSTS. DO NOT DELETE YOUR POSTS. I hope I don't have to repeat it again. This is a cardinal rule. Editing your posts is a no no. If you have something more to say, or need to edit a section of your post then MAKE ANOTHER POST saying what you need to say. If you are caught editing, you will be ModKilled. Same goes for deleting posts.
- You may not post any information (quotes or screencaps or allusions) that relates to anything outside of the thread itself. So no evidence using the "Who's Online" or Shoutbox.
- Do not talk about this game outside of the designated area(s), aka the game thread and/or Quicktopics that I have provided.
- If you refer to me, please bold my name. Makes it easier to see.
- You may not copy/past, or post any PMs I send you (including the role PM) word for word. They MUST be paraphrased/stated in your own words.
- If the day ends with no majority, the player with the most votes will be lynched.
- If there is a tie for votes at deadline, or the votes are under half majority, the moderator will flip a coin to decide which of the two will die.
- the game will not have a post minimum. But as the moderator, I reserve the right to install one at any moment in time if I deem it to be necessary

Additional game-specific rules
- you may freely claim. However, there are basically no special roles to claim. What does can be claimed in this game is that you are or have been the puppet master. You ARE NOT ALLOWED to claim that you are currently the puppet master. You do, however, are allowed to claim that you have been puppet master in the past. To give an example, if person A is currently the pupper master, and person B yesterday, both person A and B may (fake)claim that they have been the puppet master yesterday, but neither may fake(claim) that you are the current puppet master
- When the night (day in normal mafia terms) is lylo for the town, no puppet master will be chosen. This to prevent the winner being chosen at random.
Basically, everyone in this game is vanilla, even the mafia. There are no vigs, docs, cops or whatever in this game.
The night will not be quiet however. Every day and night, one player becomes the puppet master. This player is randomly chosen (it is partially turn-based, meaning that everyone will have been puppet master once before a person becomes puppet master a second time. However, the order in which the following puppet master will be chosen is that the list of living players that have not yet been puppet master will be randomised.

When you are the puppet master, during the night you will have 2 abilities:
- make player X kill player Y
- Make player Z protect player W

When you are the puppet master you never conduct your kills yourself. Instead, you give me a name of the player you want to perform your action, and also the name of the target. For example, Kokirion makes Little Gumball kill Pendio. And make Doc protect Malon.

Choosing who performs your actions may be important. The kill is for the current night, the protection for the next (so the protection will start when the next puppet master is choosing his actions). If the person you want to perform a protection, for example, would die the next day, that protection will fail.

Part of the reason for this quasi-vanilla set-up is to experiment with a game where claiming can only get you so far. If there is little to claim, it cannot be overdone.

Lastly, I will call days "nights" and nights "days". So don't get confused, the terminology is reversed.
*** Start of night 1***

The first night ends in 5 days, at 12:00 Central European Summer Time,​
Last edited: