March onward forever...
Staff member
ZD Legend
Comm. Coordinator
Joined

Jan 17, 2011
Location
Here's a few more graphics I've made recently.
Let's begin with a
Hyouka
themed signature.
This was my first successful attempt at using the fade-out tool. I managed to make Chitanda fade into the background like that, giving the impression that Houtaro was thinking about her. I was so proud of this one. I had used it for several weeks. I was very happy with it... until Wolf Sage pointed out that I had misspelled "Someone" as "Somone".
I still can't believe that typo went unnoticed for such a long time.
Next up is an avatar of Kirito from
Sword Art Online
.
I basically took the picture of
Kirito and Pina
and removed Pina. Personally I think it looks better now.
Next is an avatar of Natsu Dragneel from
Fairy Tail
.
I liked this one at first, but I grew to dislike it not long after I switched to it. I don't think his face is centered in the picture very well. I guess you could say the angle bugs me. I didn't feel like bothering to fix it, though.
Finally, we have my most recent signature. It's a cross-over sig of Asuna Yuuki (left) from
Sword Art Online
and Eru Chitanda (right) from
Hyouka
.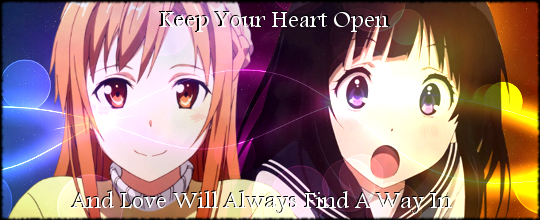 I am pretty proud of this one. The background is one thing I'm not entirely thrilled about, though, so I might end up remaking it with a different background. I dunno, I guess it's just a little too flashy for me... But I still think it came out well.
EDIT: I ended up remaking my last signature after all. Personally, I like it a lot better now.
Last edited: